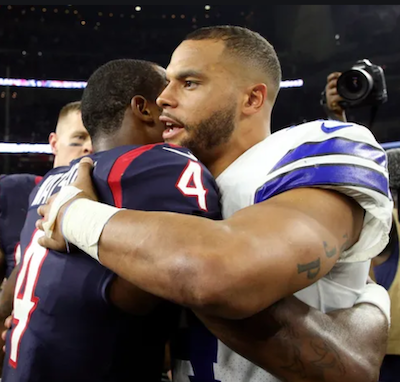 You heard it here first, Jerry Jones the GM and owner of the Dallas Cowboys is trading Dak Prescott for Deshaun Watson. Why? Better yet, what is the life lesson for you?
First off let's complement  Jerry Jones and you for your self -awareness. You wouldn't be reading this blog or listening to my encouraging voice messages on Twitter if you were not growing as a person or in your self-awareness. Jerry gave us the greatest self-awareness quote of all time when he said regarding his performance as the Dallas Cowboys GM; "If I wasn't the owner I would have fired myself already."
LIFE LESSON: There is a grand canyon divide between self-awareness and self-mastery I.E. Changing your behavior. Most people choose to stay in the self-awareness doom loop because they are unwilling to do the work to actually change. It's much easier to go to another seminar, read another book and attend another zoom conference than to actually do the deep work.  People are eager to change their circumstances but they they unwilling to change themselves, therefore they stay stuck in their pain and problems.
So why the trade? Why not just pay Dak? Here is the reason, Jerry Jones made his money as an oil "wildcatter." High risk, high reward, Jerry loves to deal, buy low and sell high. He loves to take big chances on players that have fallen in the draft, again his way to buy low and sell high. He can't resist a player that normally would be a top 5 pick that has fallen to 15 or 20 or 30, no matter what the reason. Jerry just looks at it as a great deal!  If Jerry pays Dak, there is no deal, in his mind he loses, he is not buying low and selling high, he is paying full price. But if he can trade Dak and get a better player, it's a win for Jerry.
Remember,  we can't see the label while we are inside our own bottle, our glaring deficiencies and weaknesses go unnoticed by us, but they are as plain as day to everyone else to see. So before you talk about all of Jerry's weaknesses and poor decision making, let's focus on your areas of improvement shall we? Like I always say; The biggest room in my house is the room for improvement. What are your biggest areas of growth? What's one thing you can do today to get better? Well, what are you waiting for, go do it. 
P.S. On a pure football note, the big reason why this trade makes sense is, the Cowboys wouldn't have to give up multiple #1 draft picks and cripple the franchise, while the Texans get a great starter at QB. With Jerry's deal making abilities it's a Win-Win. Check out this recent interview I did with Bills and Chargers GM Buddy Nix, who happens to know Jerry Jones, Buddy gives some great wisdom: https://directory.libsyn.com/episode/index/id/18119543

Photo Credit USA today.
***** UPDATE 3/8/21  Jerry Jones finally signed Dak to 4 year 160m deal, $129m fully guaranteed. You can't live off that amount but it's a good start right? Since couldn't make the Deshaun deal work he finally ponied up and paid Dak, let's see how the new season plays of for Dallas. 
https://evanmoney.com/wp-content/uploads/2021/02/Dak-Prescott-Deshaum-Watson-trade-.png
382
400
evan
https://evanmoney.com/wp-content/uploads/2018/08/EM-Croped.png
evan
2021-02-03 23:59:02
2021-03-10 01:21:57
Life Lesson from why the Dallas Cowboys are trading Dak Prescott for Deshaun Watson.